Retro Clothing Styles for Men
Just a peek at retro clothing might inspire you to get groovy, funky, or totally rad. No matter what your preferred decade might be, you're guaranteed to find an abundance of retro-influenced fashions even today.
Men's Fashion Through the Years
No decade is ever without its fashion hits and misses. Some styles truly catch on and make a memorable impression for being both decent and wearable. Others are less so, and may achieve notoriety only because of their ability to capture attention for a short period of time. Whether you call them trends or fads, these fleeting pieces still manage to somehow ingrain themselves in the minds of anyone who lived through the decade in question. Reliving fashion history - particularly if it's your own - can be a somewhat scary experience, but it can also be intriguing to look back and see whether you embraced a particular trend from a period in time, or shunned it completely.
The 1950s boosted the popularity of the dapper flannel suit, common garb in both business and more casual settings. Men also embraced a bit more frivolity in their wardrobes and wore button-down shirts with tropical-inspired prints. Letterman jackets, smart cardigans, and pressed trousers with slight pleating were quite popular amongst younger people, while leather jackets made a strong statement with men who dared to push the envelope a bit.
The 1960s were revolutionary in so many ways! Men's fashion took a turn for the brighter, with pieces like tie-dye T-shirts and vividly printed tops, adding new depth to otherwise neutral wardrobes. The British Invasion brought more than just great music to the country - it also introduced men to an entirely new world of fashion, including slim-fit pants, skinny ties, nipped-in shirts, and the understated yet eye-catching Nehru collar. Later in the decade, men began to wear the popular bell-bottom pant as well.
The 1970s were the very definition of peace, love, and disco-influenced fashion. Nothing was off limits, from extra-wide flared pants and excruciatingly bright, patterned shirts to sparkly fabrics and shoes with brow-raising platforms. Easily one of the most memorable decades in men's fashion, the 70s offered men a decidedly costume-like wardrobe. It's important to note, however, that disco dancing was a major pastime and thus it made sense that the clothing would follow suit.
The 1980s were a mixed bag of ostentatious looks that, at the end of the day, might best be described as too much. Excess was the name of the game, from the brightest colors (influenced in great part by hit television program Miami Vice) to the most popular athletic brands (such as Nike, made even more popular than ever by Michael J. Fox's character, Marty McFly, in Back to the Future). Even preppy looks were extreme - pink argyle sweaters and penny loafers (complete with a penny, naturally) were favorites!
The 1990s brought flannel shirts and extremely baggy pants that have made a lasting impression on men's fashion, in part due to both hip hop culture (where the style began in the 80s and hit mainstream in the 90s) and grunge music. Many men confess that the sheer comfort of the clothes of the 90s lend to a certain timelessness.
Shopping for Retro Clothing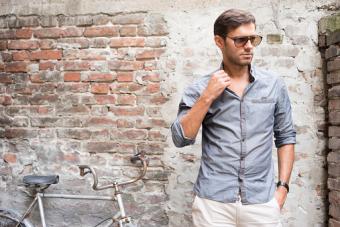 If you're a fan of any of these styles for men, you won't have to worry that you missed out just because you never hung on to your old wardrobe. Today there are many online boutiques that carry original clothing from decades past, as well as replicas of styles that were popular during those years. Among them are the following:
Dress That Man urges men to "go retroluscious" and embrace clothing and accessories from generations past. You'll find everything from leisure suits (Mike Brady would be proud) and super-chunky platform shoes to vintage western shirts and tuxedos.
Daddy-O's is a haven of cool clothes inspired by the styles of the 1950s. From authentic looking bowling shirts to a "Haskell" jacket that would definitely suggest you know a thing or two about Leave It to Beaver, this boutique is chock full of fantastic finds.
Ballyhoo Vintage Clothing offers inspired vintage clothing that date back to the 1930s. The selection is ever-changing, so retro fans are well advised to keep a close watch on the outstanding catalog.
Rusty Zipper has styles organized by decade, from the 1940s through the 1990s. Find the bell bottoms of the 70s, the brightly colored shirts of the 60s, robes of the 50s, all types of suits, and more.
Beyond Retro offers fashions from the 50s through the 90s from brands like Levi's, Wrangler, Dior, and Ralph Lauren. The inventory is always changing as it's made up of exclusive vintage pieces in limited quantities.
Outfit Ideas
With the shopping sites above, putting together an outfit from any decade should be relatively easy.
1950s Vibe
Try a cardigan over a button-up, paired with pleated trousers for a 1950s vibe. Try the cheerful red cotton/cashmere cardigan at Orvis (around $150.00) and the Berle Self Sizer Waist Pleated Trousers from Nordstrom (under $100.00).
Hint of the 1960s
A skinny tie and tight-fitting jeans pair up nicely for a hint of the 1960s. Take your pick from the selection at Your Necktie Shop (usually around $30.00 or less) and the Extra Slim Innovator Dress Pant from Express (under $100.00).
70s-Inspired
While wearing bell bottoms might be a little much for some men, it's still possible to wear 70s-inspired clothes. A pair of trousers with a bright, fitted shirt will do the trick in modern day. The bigger the collar, the better. Bright colors and polos with attention-grabbing collars abound at Rusty Zipper and the selection (and price) varies. If you do feel comfortable sporting flared jeans or trousers and really want to give it a try, don't hold back! For those, check eBay, vintage shops near you, or Atom Retro (most are less than $50.00). Pair those up with one of the aforementioned bright, collared shirts or go for a band/concert t-shirt or bright hoodie, like the Festival Express Baja Hoodie from Hippie Shop (under $30.00).
1980s Style
A tracksuit, crewneck sweater, loose-fitting pleated pants, t-shirt featuring your favorite character, or a short-sleeved patterned button-up with jeans will give you 1980s style. Just make sure there's plenty of color. Macy's has a tracksuit option where you can choose from several jackets and three pants colors. T-shirts like Think Geek's 8-Bit Mega Man option (around $20.00) has a retro flair that isn't too over-the-top, which is perfect if you want to subtly salute your favorite decade.
Channel the 1990s
The 1990s style may be the easiest to pull off without looking as though you're trying to channel another decade. A loose-fitting flannel shirt over a white tee, plus a pair of baggy (or at least relaxed fit) jeans is really all it takes to get that retro style. The beanie is optional. If that's not your style, throw a light to medium wash denim jacket (like this one from Old Navy, available for under $50.00) on top of your t-shirt for a hint of the 90s. The Hughes Longline Plaid Shirt from Guess (less than $75.00) is perfect for layering for 90s style, plus it's long and comfortable. Wear it with loose-fitting jeans, like the Levi's 559s (less than $60.00 at Macy's).
Make It Modern
You can take almost any decade's fashion and give it a modern twist to fit both your personal style and your admiration for the clothing of the past. Your hairstyle, glasses, and shoe and accessory choices can do a lot to take one decade's style and transform it into a look that doesn't come across as a costume. Experiment with retro pieces and modern trends (in many cases, they will actually overlap), or pair pieces from different decades together to create an ensemble that's all your own.