Fashion Pictures for Short Men
Great tips for the perfect fit
The following fashion pictures for short men prove you can elongate your shape with the right clothing and accessories.
Are you vertically challenged? Finding clothes that suit your shape is the best way to increase the appearance of height while flattering your better assets. There are plenty of tips and tricks for men who want to appear both taller and slender. Use these fashion pictures for short men as a guide to finding clothes that fit your lifestyle and enhance your frame!
Add stripes and unbutton!
Unbutton the top of your dress shirts to draw the eye downward, increasing the length of your torso. Vertical pinstripes add height.
Go dark and fitted
Tuck in shirts for a clean line. An opened blazer creates a long fluid shape. Stick with dark colors for the most streamlined appearance.
Draw focus to your chest
Add a necklace or signature piece of jewelry to draw attention to a low cut neckline and keep the eye moving.
Hem pants to proper length.
Make sure pants and shirts are properly tailored to enhance your shape. Long pants can actually make you look shorter!
Add height with heels.
Wearing a boot with a heel can add several inches while increasing your cool factor!
Wear a fitted tee
You can still go casual when you're short, just make sure tees are fitted and hit at the hip!
Stick with one color head to toe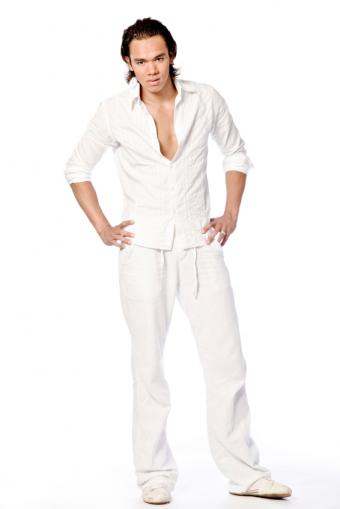 For a linear and smooth shape, opt for one solid color. Going with a white shirt on top and solid trousers on the bottom makes this model appear taller and more slender!