Held annually in Louisville, the Kentucky Derby is a legendary horse race that originated in 1875. Whether you're heading to the actual event or a themed party complete with party food, have fun with what you wear. Often, bigger is better, and it's all about putting together interesting and colorful looks.
Classic Cool
If you want to keep things smart and traditional for having lunch at one of the Kentucky Derby's many restaurants or spectating the race as a club member, you can't go wrong with a navy suit and a crisp white shirt. Typically, attendees will stick with a two-piece suit but you can opt for a three-piece for an extra layer if the weather is a little cold or to refine your aesthetic.
Keep your accessories minimal. Wear dress shoes, like Oxfords or Derbys, to polish off your outfit perfectly.
Cute and Casual
If you plan to sit in the stands, feel free to dress more casually. Chinos are widely accepted in such cases and can still look sharp when dressed up with a suit jacket in a classic hue like grey, navy, beige, or white. You can even add a white shirt into the mix with rolled-up sleeves and the top buttons undone for an effortless yet elegant aesthetic.
In terms of footwear, opt for suede bucks for ultimate casual cool.
Summery Delight
The weather is usually starting to warm up with the Kentucky Derby taking place on the first Saturday in May, so you might as well dress for the occasion! Swap your suit pants for something more lightweight and breathable in hotter temperatures, like white chinos or linen pants.
You can still keep your navy suit jacket if you'd prefer to channel a conventional look. Alternatively, swap this jacket for a seersucker option for the utmost comfort. Wear a shirt in a standout hue, along with a tan leather belt and matching dress shoes, to add a pop of color.
Mix and Match
If you want to go for something a little more adventurous, mix up your suit separates and wear a different colored jacket with your pants. This can be as subtle or as daring as you like, depending on your personal taste.
To play it safe, stick to the same color family but change up the shade. For instance, wear a navy suit jacket with mid-blue pants. Be sure to keep your shirt neutral to tone down the look. If you're feeling brave, add another color into the mix through a bright bow tie or regular necktie.
Loud and Proud
For a more alternative approach, invest in outfit separates in bright, beautiful hues like key lime, Bermuda pink, citron, or coral. These colors are sure to pop in the sunshine and make a serious style statement. If you're not the experimental type, add flashes of color through a vivid pocket square or multi-hued belt.
Power of the Print
Bold prints are also good at capturing the attention of others if you want to stand out in the crowd of spectators. Consider a check or striped suit for a youthful and exuberant look. Just make sure that you play down your accessories, shirt color, and footwear to let your suit take center stage.
Patterned Shirts Galore
Similarly, rocking a patterned shirt will create a fun and distinctive vibe to your outfit. If you want to go all-out, channel your inner maximalist and team your loud, patterned shirt with a rich-toned jacket and pants. For something more understated, choose subtle-toned separates.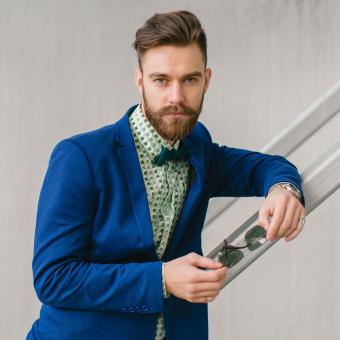 Pastel Surprise
If rainbow brights aren't your forte, go for washed-out separates instead. Pastels are perfect for epitomizing ultimate summer vibes and putting a contemporary spin on the traditional Kentucky Derby aesthetic. They also look seriously dapper when combined with a simple white shirt. Want to embrace summer and the fashion-forward nature of this look even further? Rock sockless loafers or boat shoes.
Fun and Quirky Accessories
Finally, if you want to keep your separates solid in a muted color palette to ooze class, you can add creative flair to your outfit through accessories. Bow ties are a cute and quirky alternative to the classic tie. Similarly, pocket squares are great for adding a personal touch to your ensemble. If you truly want to make an impact, consider a fedora, bowler or other dress hat for the complete Kentucky Derby look.
Putting It All Together
The Kentucky Derby is an event where you can have fun with putting your outfit together. Make sure that you consider the occasion that you're dressing for, whether it's to sit in the stands or attend a themed party, and reflect your personality in your ensemble. Above all, enjoy yourself, and the rest will fall into place.