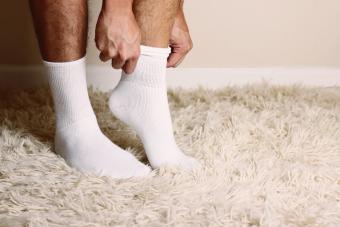 Diabetic stockings are specially designed to protect the feet and provide maximum comfort for diabetes sufferers. Even though they are only available at select retailers and have an important function, there are some fashion-forward options you can buy for men that would work for a multitude of events and occasions.
Calf and Knee Length Socks
If you suffer from diabetes and you require stockings you can wear every day that provide you with the utmost support and comfort, then consider the following options.
SmartKnit Seamless Over-the-Calf Socks
These SmartKnit diabetic over-the-calf socks from Bright Life Direct come in classic navy, white, and black and are priced at around $17. Truly seamless with no pressure points, they have a unique "halo top" that prevents indentations on the leg. They're also made from high-tech "CoolMax" fibers that eliminate bacteria and reduce odor.
Blitzu Compression Socks
Funky yet functional, these Blitzu diabetic unisex socks from Amazon come in a vibrant purple hue. They cost about $10 to $12.50, and they're also available in bright pink, white, and black. These socks use compression therapy technology to promote blood circulation and oxygen flow to reduce swelling and fatigue in the legs and feet. They have a premium grade circular knit structure that has stretch and helps the socks to stay up without limiting your range of motion.
HJ Hall Diabetic Socks
Priced at only $10 from John Lewis, these oatmeal HJ Hall diabetic socks also come in black. They're constructed from 94 percent cotton, making them cool and comfortable to wear. Along with having a cushioned terry loop foot to protect sensitive areas, they offer a non-restrictive top and smooth toe seam to prevent the restriction of blood flow. Furthermore, their fashion-forward hue will provide a fresh and contemporary update to any outfit.
SB SOX Lite Compression Socks
Available in a range of color ways and patterns, these SB Sox Lite stockings from Amazon are ideal for diabetics and cost about $8 to $14 depending on your size. They use graduated compression technology to boost your blood circulation throughout your calf, ankle, and feet while providing the maximum amount of comfort and support. Designed with lightweight and breathable fabric, they're especially great for all day wear, with the printed versions looking undeniably snazzy and stylish.
Diabetic Dress Socks
Need a dress sock? These diabetic dress socks from the Vermont Country Store cost about $15 per two-pair package and come in ribbed gray, blue, and white. They are anti-microbial, mid-calf height socks made from 94 percent cotton with a little nylon and spandex for stretch. They're perfect for when you need to suit up.
Ankle Length Diabetic Socks
If you're looking for casual stockings for everyday occasions that are incredibly easy to pull on or off, then you may want to invest in some that are ankle length.
TeeHee Diabetic Sports Compression Crew Socks
These TeeHee diabetic socks from Amazon are affordable and come in a pack of six for $18. Made from signature Viscose that comes from a bamboo yarn, they're soft, smooth, and non-binding at the top. They also come in a basic, bright or assorted color selection to suit any mood.
Pro-Tect's TransDRY Cotton Diabetic Socks
These diabetic socks by Pro-Tect Socks cost almost $20 for a pack of two pairs. Made from "TransDRY" cotton, they're extraordinarily soft, naturally breathable, and moisture-wicking. As well as being treated with copper oxide technology to combat foot odor, they have a non-irritating seam construction. Even though these socks are primarily black, they have an oatmeal toe, base, and heel that gives them a cool, sporty appearance.
Sole Pleasers Men's Diabetic Crew Socks
At only $8 per pair from Socks4Life.com, these Sole Pleasers tan diabetic socks also come in classic white, gray, and black. Even though tan is neutral and will go with practically any color palette, its lighter hue is still considered fashion-forward and adds interest to an outfit.
Doc Ortho Ultra Soft Loose Fit Crew Socks
These Doc Ortho diabetic socks from ForYourLegs.com are about $50 for a pack of eight pairs, or slightly more than $6 per pair. Their main color might be white, but they are accented with silver gray at the toes and base providing a unique point of difference from standard hues. Team with sneakers or tanner shoes for a laid-back, athleisure look. The socks feature a silver-based anti-microbial treatment, and they're made from moisture-wicking yarns to keep them lightweight, cool, and breathable.
Finding Your Diabetic Sock
Diabetic stockings and socks are designed to improve your blood circulation and oxygen flow if you have high blood sugar. They might have a significant job to do, but there's no reason why they can't be modern as well as functional. Just make sure you shop around to find the right length, design, and color way for your specific needs and it won't be long before your feet are looking seriously stylish.