Short Sleeve Shirts for Men
There are a number of great short sleeve dress shirt options for men - in both traditional and trendy looks. From styles suitable for wearing to the office when a jacket is not required but a polo is too casual, to options perfect for outdoor weddings, dates, and other events.
See a style that you love? Click the 'Buy now' link on the following slides for purchase details.
Traditional Button Down Oxford
More Details"
A traditional button down oxford shirt is a great short sleeve option for men. This style from UltraClub comes in traditional solid colors like blue and tan, some trendier shades like lime green and even white with blue pinstripes.
Size availability ranges from small to 6X. Prices generally fall between $20 and $35, depending on size and color.
Oxford Stripe
Buy Now"
This English Blue pinstriped oxford button down shirt from Van Heusen is a great summer dress shirt option for men. It pairs perfectly with khaki or navy blue slacks for a pulled-together warm-weather look.
This shirt is sized based on neck measurements and comes in half sizes from 15 through 18.5. It costs around $30.
Easy-Care Twill
Buy Now"
Oxford cloth isn't the only option for short sleeve button down collar shirts. Twill is also a great choice, especially when you opt for a lightweight (4.5-ounce) cotton/polyester blend like this style from Port Authority.
It comes in more than 30 colors, ranging from dark blue and black to summery shades like teal and hibiscus. It comes in extra-small through 6X and is typically priced between $20 and $40, based on color and size.
Slightly Heavier Twill
Buy Now"
If you love twill but prefer a slightly heavier fabric, this style from UltraClub may be your perfect choice. This shirt is also made from a cotton/polyester blend fabric, but this one has a weight of 4.65 ounces.
It comes in nine colors, most of which are various shades of blue ranging from navy to sky. Other options include white, stone and black. Prices range from $20 to $30, varying based on color and size.
Wrinkle Resistant Poplin
Buy Now"
Poplin is also a nice option for short sleeve button down shirts. This style from Ed Garments is made of a wrinkle-resistant polyester/cotton blend fabric and comes in 15 colors, including hunter green, burgundy and purple, as well as expected shades like white, black and blue.
It comes in sizes ranging from small to 6X tall. Prices typically fall between $20 and $30, depending on color and size.
Microfiber Shirt
Buy Now"
Microfiber is also a great choice for warm weather dress shirts. This stylish choice from Haggar is 100% polyester with a super-soft finish. The fabric is lightweight and easy to take care of. The checked pattern is subtle and attractive, and the square tail means that you can wear it out or tucked in.
It is available in sizes small, medium and large for around $30.
Broadcloth Shirts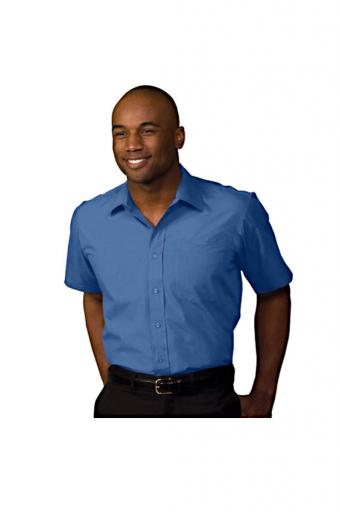 Buy Now"
Broadcloth is a great choice for warm weather shirts, as it's thinner and lighter weight than twill and many other commonly used fabrics. As broadcloth is a cotton/polyester blend, it is easy to care for and has a great feel.
This style from Ed Garments comes in seven colors, including a few shades of blue, as well as burgundy, black, gray and white. Sizes range from small though 4XL tall. Prices vary based on color and size, typically falling between $20 and $30.
Wrinkle Free Slim Fit Shirt
Buy Now"
Short sleeve shirts with a slim cut are a great option, especially when they are made from wrinkle free fabric like this stylish choice from H2H. This shirt is made from a cotton/nylon/spandex fit, which gives it a slight stretch in addition to keeping it from wrinkling.
It is available in sizes small through large and is priced around $30. Ten colors are available in the short sleeve style; a long sleeve version is also available.
Another Slim Fit Wrinkle Free Option
Buy Now"
Doublju also makes a wrinkle free slim fit shirt with short sleeves. Available for under $25, it is slightly less expensive than the previous style and also comes in a few more colors. Not all shades have spandex, though. Some styles are a straight cotton/polyester blend, while others do have spandex added to the fabric.
Customer reviews on Amazon indicate that the shirt seems to be cut a bit small. It comes in XS through XXL, though based on customer reviews you may want to order a size larger than you usually wear.
Slim Fit Shirt With Contrast Collar
Buy Now"
If you like trendy style and special details, this cotton/spandex blend shirt with a contrasting collar and pocket trim might appeal to you. The shirt comes in your choice of gray, light blue or pink. Each color is accented with a white collar and white detailing along the top of the pocket.
Priced under $12, this shirt is an affordable piece that can add on-trend, attention-getting style to your warm weather wardrobe. Sizes range from medium through extra-large.
100% Cotton Slim Fit Shirt
Buy Now"
This black shirt from Threeseasons is made of 100% cotton. It is a great choice for men who like the feel of 100% cotton, though of course it's important to know that cotton often shrinks and always requires ironing.
It comes in sizes XS through L with a slim fit cut and features two front pockets with buttons. It is priced just under $25.
Warm Weather Style
When the weather is warm, you can still look stylish for any occasion. Opt for a short sleeve dress shirt - paired with a tie if the occasion calls for one - tucked in to pants that suit your style for a perfect, pulled-together look.
Wearing short sleeves in hot weather is much better than getting overheated or resorting to rolling up long sleeves in an effort to stay cool.